Scones come in all shapes and sizes, a wealth of recipes are available from savoury to sweet, fruit or cherry filled, milk, buttermilk or cream. Then there is the shape – drop scones, triangle, square or the more commonly used round scone. Topped with butter, jam, fresh cream or cream everyone has their favourite scone.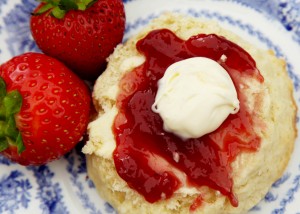 At Alice's Vintage Pantry we have tried lots of different recipes and make different scones for different occasions. No matter what your favourite type is or what recipe you are using, if you are baking your own follow our scone tips to get your perfect scone.
Don't spend too long rubbing the butter in to the flour – the quicker you do it the lighter your scone will be;
No matter what your recipe says, make sure your butter is at room temperature, if it's too cold it will take too long to rub in to the flour and will result in a heavier scone;
Roll out your dough to a depth of no less than 2 cm's. This will seem deep but it will give you a greater height to your scone;
Make sure you apply even pressure to the rolling pin, to get an even rise to your scone the best way to start is an even dough;
Dip your scone cutter in a little flour prior to cutting, it will prevent the dough sticking to the cutter and will help give a more even rise;
Once you have cut your scones, place them upside down on the baking sheet, again this helps them to rise more evenly;
If you want a softer top to your scone, cool them on a wire rack and place a slightly damp clean tea towel over the top;
Whilst scones do freeze well, they are always best baked fresh and served the same day.
And of course make sure you serve them on a tiered vintage cake stand with a cuppa served in a dainty vintage teacup!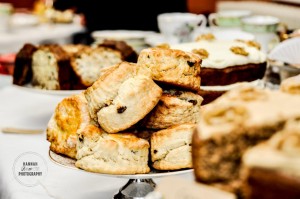 Try these tips with Delia Smith's basic scone recipe…
225g self-raising flour
40g butter, at room temperature
1½ tablespoons caster sugar
a pinch of salt
150ml milk
Preheat the oven to gas mark 7 (220c). Grease a baking sheet.
Sift the flour into a large bowl and rub the butter in rapidly using your fingertips. Stir in the sugar and salt, take a knife to mix in the milk little by little. Knead the mixture to a soft dough.
Turn the dough out on to a pastry board and roll it out using a floured rolling pin. Cut the scones out using a 4-5 cm cutter and place on the baking sheet. Dust each one with a little flour. Bake near the top of the oven for 12 minutes or until golden brown.
Enjoy with good quality jam and clotted cream.