Couples looking to tie the knot have SO many options when it comes to venues these days…just google 'wedding venue Manchester' for a start…the options are almost endless. Over the six years we have been in business there has been a definite increase in the number of couples choosing village or church halls for their wedding celebration venue. Many moons ago this is where many wedding celebrations would take place, they are making a come back big time and we LOVE them.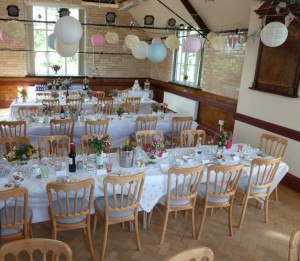 They can offer a huge amount of flexibility at a very very low cost. Have you had a search in your local area? Many of the buildings are beautiful with great amenities and catering space. We have been in many that have gorgeous flooring, high ceilings, beautiful windows and great outdoor space. And all at a low cost. There isn't normally a restriction on which suppliers you commission to provide your food and entertainment, leaving you to create the wedding of your dreams. You can source your own suppliers, those who you hand pick to match exactly what you need and want. You can decorate the space with pretty much anything you like. Arrange a bar that suits your style and guests. Get the food in that you really wanted on your wedding day. So many positives.
And what about the downsides…are there any? We've struggled to come up with any that can't be fixed…perhaps just a couple of things to keep in mind…
Staff – a village hall does not normally come with its own team to run your day for you. You need to consider who is going to switch the lights on, let your guests in and serve them a welcome drink and nibbles, light the candles, turn your tables around for the evening, clear up any rubbish and leave the venue tidy.
This is where we have seen a big increase in the work that we do. Our fab team of lovely tea-ladies (and a couple of gents) can take on any of these tasks (and lots of others too). We don't just serve the afternoon tea, we do all of the above plus lots more…often staying until the wedding ends to make sure it all runs smoothly. Its a great way to take the pressure off friends and family and leave all your guests to enjoy their day. Get in touch to find out more!
Venue dressing – a village hall can be a large space and the task of dressing it can seem daunting. Many clients underestimate the work that can be involved and some spend hours the day before their wedding getting it right. Its worth making a detailed plan early on about how you will manage that…and it IS manageable. Careful planning and talking to those that have done it many times is well worth the time investment. It might be worth considering getting the help of a professional venue dresser (not as expensive as you might think), or at least getting your friends and family to help you out. We work with some amazing venue dressers and will happily recommend them to you.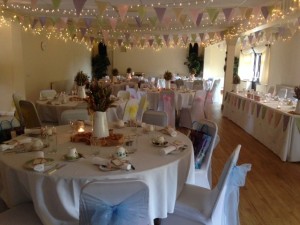 Wedding planning – if you are booking a hotel wedding you will be assigned a planner or coordinator…a village hall won't come with one of those. If you haven't planned a wedding or event before this might unnerve you. There is quite a bit to think about and organise. At Alice's Vintage Pantry we have catered for and managed lots and lots of weddings, we are happy to help with the planning and can offer lots of advice. Just get in touch and ask away!!
Happy wedding planning lovely people!