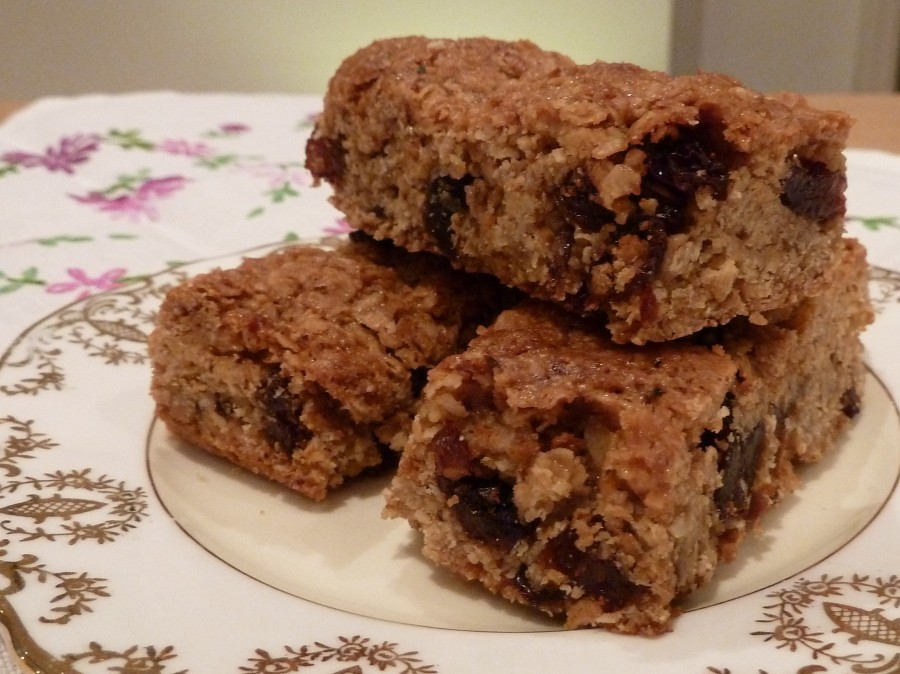 My first experience of making flapjack was in Home Economics at school, using the recipe from the back of a pack of porridge oats. We came across this recipe a little while ago, and as far as flapjack is concerned, have never looked back. It has a lovely fruity flavour but still retains the stickiness of a plainer flapjack. Yum! It stores well and can easily be layered (just put a little greaseproof paper in-between layers) so is a great alternative in the biscuit tin, or for picnics. Two tips for making this work well: don't overcook, when you check it at 25 mins it will still be bubbling and may not look ready, don't worry, as it cools it will all come together; press the mixture in to the tin using a wide flat surface like a palette knife or a spatula, press it down again when you get it out of the oven.
You will need
175g butter
175g soft light brown sugar
125g golden syrup
350g rolled oats
150g sultanas
100g chopped dried apricots
2 teaspoons ground cinnamon
1 orange, rind zested
Preheat the oven to 180c / gas mark 4. Line or grease a 16x16cm baking tin.
Melt the butter, sugar and golden syrup in a pan over a low heat, stir occasionally.
Whilst it is melting mix the remaining ingredients in a large bowl.
Pour the butter mixture into the dry ingredients and combine. Press in to the prepared tin.
Bake for 25 minutes, or until the mixture starts to brown a little at the edges.
Cool in the tin, then use a very sharp knife to cut in to as many pieces as you like.
Have a go and let us know how you get on….next recipe will be an Orange Sandwich Cake from the 1930s…watch this space.