A couple of months ago I was asked by the fab 4Manchester Women(online magazine style blog) to write about baking and all that goes with it…just in case you missed my first article, here it is….
Blogging about baking…simply fab…this must surely mean I get to test out more recipes and eat even more cake…the first thing you should know about me is the basis of survival in my rather hectic life is a proper cup of tea accompanied by a delicious piece (or three) of home baked cake. I try and blame my rotund (and seemingly growing) belly on the four children I have, but if the truth be known it is purely down to a love of testing my baking and that of anyone else I can get my hands on. My other great love is vintage china – in fact I think my perfect day would probably largely be made up of the above mentioned tea and cake, all served up on gorgeous vintage china…little teacups, cake stands, pretty milk jugs, cake forks…my dream day. Not one to miss out on making it all a super big part of my life, I decided a little while ago to set up a business that incorporates all three – Alice's Vintage Pantry – I hire out my rather large collection of china for weddings, christenings, baby showers, birthday parties and lots of other special occasions, and I provide afternoon tea catering, 'everyday cakes', and celebration cakes for other cake lovers, corporate lunches with a twist, and anyone who wants to lay on a rather special feast for their chums. Not a job I will ever complain about.
I love it all, so was delighted to be asked by 4Manchester Women to write about baking and all that goes with it. As a super busy working Manchester mum I was really excited to discover that there is a blogging site out there that will put me in touch with other similar women AND keep me up to date on what's happening in Manchester (whilst I break eggs in to bowls and sieve flour, oh and look after the littlies). My blogs will feature baking tips and recipes and will answer any questions you have on how to make the perfect Victoria Sandwich or anything similar. Email me your questions to feature in next month's article alice@alicesvintagepantry.co.uk And because I love the women of Manchester any of you ordering from Alice's Vintage Pantry will get 10% off if you quote the following when you place your order – 'Cake is an essential food group for any self-respecting woman' (urm, not sure I should be quoted on this, but hey, I live by that rule!)
So where shall we start? Cupcakes I think. Never have they been more popular. Pretty much any flavour and style you like is out there and they seem to be available on every street corner. Some of you lovely Manchester ladies took part in a bit of research to establish how best to represent Manchester Women in a cupcake…ok so don't take this too seriously…just a bit of fun really and the chance to try out a new recipe. What did you come up with? A chocolate and chilli cupcake covered with chocolate icing and topped with popping candy sprinkles –what does this represent? Well, that us Manchester ladies like a bit of indulgence, but only with a bit of kick and fizz. I've been trying out a few recipes for this '4Manchester Women' cupcake and would like to share the best with you. Go get your cupcake cases out and your oven gloves on….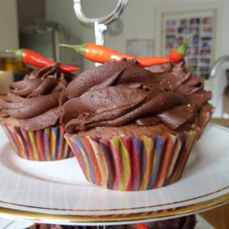 For the sponge you will need:
225g butter
225g caster sugar
3 eggs
1 teaspoon vanilla extract
340g self raising flour, sifted
100g dark chocolate
1 tablespoon cocoa powder
1-2 teaspoons dry red chilli flakes
110ml milk
Preheat the oven to 160c and line a tin with cupcake cases.
Break up the chocolate in to a bowl, place over a pan of simmering water to melt. Make sure the butter is soft, and cream together with sugar.
Break the eggs in to a separate bowl, add the vanilla extract and whisk lightly. Add the egg mixture to the butter and sugar slowly, beating in between additions. Once it is all combined sift the flour and cocoa powder onto the mixture and fold in. Now mix in the chilli flakes and add the milk. Bake in the oven for 15-20 minutes. Remove and cool on a wire rack before icing.
For the topping you will need:
300g icing sugar
35g cocoa powder
100 butter (unsalted)
45-50 mls whole milk
Popping candy
Small red finger chillies
Sieve icing sugar and cocoa powder in to a bowl. Add the butter. Use an electric mixer to combine. When there are no lumps of butter left slowly add the milk. Then mix until light and fluffy.
To decorate simply put the buttercream topping in to a piping bag and pipe away, or use a spatula or something similar to spread on the top of each cake. Sprinkle with a bit of popping candy and place a small red finger chilli on top.
So there we have it…let us know how yours turn out and send us some photos if you can. Now time for me to finish off these cakes…
On the baking blog next time…top ten tips to beat flat cake syndrome.